Ingredients
Serves 4
6 tbsp olive oil
1 onion, finely chopped
3 garlic cloves, finely chopped
½ red chilli, finely chopped
8 tomatoes, chopped
2tsp ground cinnamon
2tsp ground cumin
1tsp ground coriander
pinch turmeric
6tbsp flaked almonds
1 can chickpeas
bunch fresh parsley chopped
400g spaghetti
Save the leftover pasta for lunch the next day.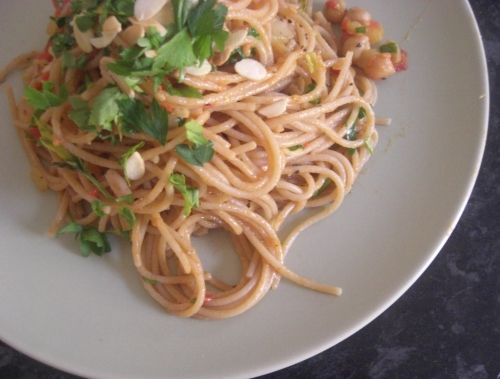 Spicy Chickpea Pasta
A somewhat unorthodox flavour combination of chickpeas spiced with cumin, cinnamon and turmeric, combined with tomato, flaked almonds, parsley and er... pasta, but it works all the same. Don't skip any of the ingredients in this, they're all pretty essential.
Recipe
Cook the pasta in plenty of salted boiling water. Meanwhile toast the almonds in a large frying pan until golden (be careful they don't burn!). Remove the almonds and add the oil, fry the onions, garlic and chilli until softened, add the chickpeas and spices, stir thorughly and fry for a minute or so more, add the tomatoes, turn the heat down and cook for 15-20mins until the tomatoes have broken down, you may need to add a little water as they cook. This is all down to personal preference, cook the sauce for less time if you'd like a fresher tomato taste.
Add the pasta, flaked almonds and parsley (possibly reserving some almonds and parsley to sprinkle on top) and stir thoroughly.