For Perfect Mash you will need...
1kg floury potatoes (Desirée or King Edward)
75ml double cream
45ml milk
50g butter
Serves 4
Here's how...
The perfect mash is smooth, creamy and infinitely comforting. The key is not to scrimp on the cream and butter! You also need to make sure that you heat the cream, as cold milk or cream reacts with the starch in potatoes and makes the mash gluey.
Check out
this article
from The Guardian for loads of mash ideas
Peel the potatoes and cut into 5cm chunks, cover with freshly boiled water, and add 1tsp salt. Boil for about 20mins until the potatoes are very soft.
Drain and allow to steam in the colander for a few mins so that they're completely dry.
Push through a potato ricer or mash well. Meanwhile heat the butter, milk and cream over a low heat. Once mashed, beat the cream into the potatoes with a wooden spoon, whipping the potatoes up until you have a smooth and creamy mash. Season very generously with salt and pepper.
There are so many variations for mash, its impossible to list them all here, but a few favourites are..

Cheddar Cheese Mash
Add 175g grated strong cheddar and mix until melted in (you may want to go a little easier on the cream).

Spring Onion Mash
Finely slice a bunch of spring onions and warm with the cream before adding to the potatoes.

Garlic Mash
Boil a couple of cloves of garlic along with the potatoes, peel and squeeze the gooey insides into the mash.

Mustard Mash
Add 1-2tbsp grain mustard

Horseradish Mash
Add 2 tbsp fresh horseradish, ready grated horseradish from a jar, or creamed horseradish to give your mash a real kick.

Shape leftover mash into small patties and fry on both sides until golden. Perfect for breakfast!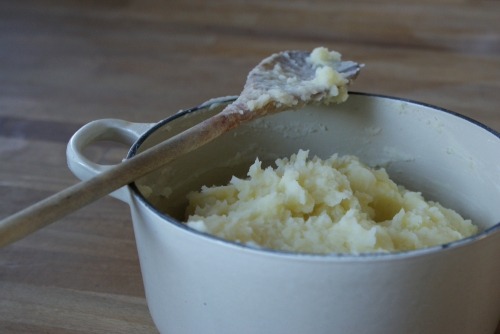 | | |
| --- | --- |
| | Try a vegetable box scheme if you want the freshest organic vegetables and fruit, delivered direct from farm to doorstep. |